Coya, Peru - February, 2014
Team Type:
Children's Orthopedic and Gynecology
Campaign Summary:
There were 130 orthopedic consultations and 43 orthopedic surgical procedures completed. There were also 110 gynecological consultations and 10 gynecological procedures performed.
Click photos for more info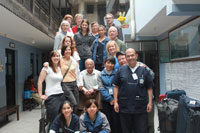 Supporters:
Americares - Stamford, Connecticut
Team Members:
Dr. Laura Chong M.D., Gynecologist
Courtney Dalke, Medical Assistant
Kim Gannon, Surgical Assistant
Dr. Kim Geelan M.D., Anesthesiologist
Andrea Hughes, Nurse
Laurie Hyndman, Nurse
Neil Mahoney, Nurse
Julie McMahen, Nurse
Isabella Nelson, Assistant
Todd Nelson, Prosthetist
Dr. David Noall M.D., Orthopedic Surgeon
Markie Sage, Operating Room Nurse
Dr. David Shaw M.D., Orthopedic Surgeon
Jenna Sturzinger, Physical Therapist
Debbie Sund, Nurse
Dr. Tedd Vigeland M.D., Orthopedic Surgeon
Kim Wiebe, Nurse
Julie Vigeland, Communications
Dr. Jonathan Young M.D., Anesthesiologist
Narrative:
Dr. Shaw has prepared a slide show about this trip. It can be found at the following website. The second half of the slide show is about his team's trip to St. Helena, Ecuador in April, 2014.
https://www.dropbox.com/s/o1ntigkykocot7g/mission2014%20video.mpg
Upcoming Campain Information
More Success Stories